BUDGET INFORMATION
Middletown School Committee Budget Narrative submitted to Town Council
The Middletown School Committee approved the School District budget for 2020-21 at its April 3, 2020 meeting. Information contained herein includes general information relative to the School District as well as budget details for the 2020-21 school year.
The School Department budget is built on data, student outcomes and linked to the District Strategic Plan. We envisioned presenting a budget that would give the district the best possible outcome for our students. The FY 20- 21 budget falls short of this goal. To paraphrase a statement made by the Council of Chief State School Officers, "It is not about leading for resources but instead leading for opportunities. We know that we must lead with a relentless focus on equity and learning---for readiness for college and high wage work. We know that this most likely means at least a two-year degree or trade school equivalent, to stay above the poverty line."
A school budget should drive WHAT happens in our schools, not the other way around. This budget narrative is meant to provide you a snapshot of the district...what we do to ensure student success; why we need the resources we requested to guarantee successful student achievement and how the district measures academic return on investment (A ROI).
MISSION, VISION AND BELIEFS
OUR MISSION
To Ensure Success for Every Student
OUR VISION
Middletown Public Schools is committed to a collaborative culture of professional learning communities, where we challenge, inspire and empower ALL students. Through innovation and personalization, we ensure that all students acquire the skills, knowledge and confidence necessary to become college and career ready.
OUR BELIEFS
We believe:
•All students can learn in a collaborative culture that is focused on results
•In selecting, developing, and supporting highly effective and caring staff
•In providing and maintaining a safe, supportive, and inspiring environment
•In the effective management of resources that continue to foster partnerships and collaboration

FY21 FISCAL MANAGEMENT GOALS
It is recognized by Middletown Public Schools that the quality and quantity of the educational program is directly related to the financial ability of the District and that financial resources have finite limits.
The following are, therefore, goals for the financial management of the District:
To use our community fiscal resources wisely, purposefully, and responsibly to maintain and enhance a high-quality education for all students.

To identify and acquire high quality resources to support district goals and ensure that budget plans link expenditures to anticipated outcomes.

To coordinate fiscal resources from local, state and federal funding streams, as well as human capital resources, to meet priority instructional goals and to promote equity and excellence.

To allocate resources that support student achievement and instructional goals, including money, time, personnel and materials, in a manner that supports district goals and maximizes student growth and achievement.

To ensure equity and adequacy of available resources to achieve a notable return on our educational investment.
To leverage school-community-business partnerships in order to maximize the district's overall educational efforts and resources to support the Strategic Plan.
FY 2020-21 BUDGET NEEDS AND THEORY OF ACTION
PRIMARY NEED
The primary need to be addressed by the 2020-21 budget is the need to increase all student achievement levels by increasing the literacy and mathematics levels. There is a specific emphasis on reducing the achievement gap for high need students. High need students are any students that is below grade level in literacy and/or mathematics, special education, or any combination.
THEORY OF ACTION
If Middletown Public Schools focuses on literacy and mathematics development for all and uses it as a lever for improving the performance of high needs students by closing their achievement gap, then we will have developed the capacity to raise the performance of ALL students.
RI ACCOUNTABILITY RATINGS
This is the second year of RI's Star Rating System, developed to bring increased transparency and accessibility to school performance data under Every Student Succeeds Act (ESSA), the federal education law.
Ranging from 1 to 5 stairs, the Star Rating simplifies and summarizes overall school performance, providing an easy-to-understand snapshot for families and communities.
5 Stars - Strong performance on all indicators
4 Stars - Generally strong performance
3 Stars - Some areas of weakness
2 Stars - Weaknesses at the overall school level
1 Star - The lowest performance in areas of achievement and growth or graduation
Our Results
Middletown High School went from a 3-star school to a 4-star school. They improved in English learners scores, graduation rates, suspension rates and their math scores. This puts MHS in the top 25% of High Schools in RI for accountability ratings. Only 12 high schools in total received 4 stars and only 2 received 5 stars.
Aquidneck School, Forest Avenue, Gaudet Learning and Gaudet all stayed at 3 stars, however, there were notable celebrations on their report cards. All schools showed a strong performance exceeding expectation of absenteeism and suspension. Aquidneck scored 5 stars in this area and Gaudet Learning, and Forest Ave had 4 stars.
STAFFING CURRENT/PROJECTED
Middletown's enrollment is approximately 2,108 as October 1, 2019. At the time of the Pre-Budget Consultation (January 21, 2020), our enrollment was 2,110.
Current staff is 280.0 FTEs
This does not include Newport County Regional Staff of 13.7 FTEs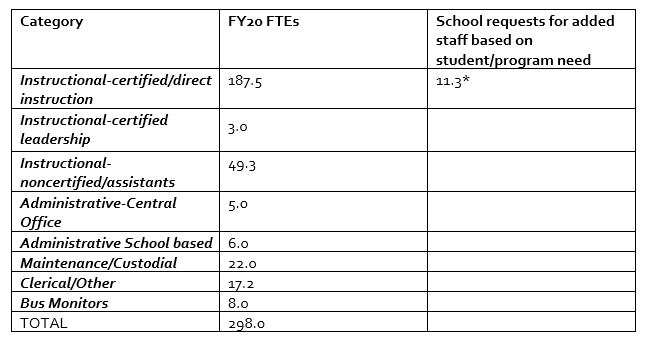 *The Building Principals identified needed support for our students. The positions below were requested BUT unfortunately, were NOT included in the budget request:
· 1.7 Literacy Intervention (Elementary and Middle)
· 1.0 Math Intervention (Middle)
· 2.0 Social Emotional Counselors (Elementary)
· .5 English Language Learner teacher (District-wide)
· 1.0 Behavioral Support Specialist (Elementary)
· 1.0 Art position High School)
· .5 Career Tech Coordinator (High School)
· .2 Spanish (High School)
· 1.0 Hockey Coach
· 1.0 Gymnastics Coach
· 0.4 Full Time Athletic Director
· 1.0 Full time Athletic trainer
The sad fact is some current positions NEEDED to be reduced from the FY 20-21 budget request. These include:
· 3.5 Elementary Teachers
· 2.0 Literacy/Math intervention teachers
· 1.0 Art at Middletown High School
· 2.0 Guidance (one at the Elementary and Middletown High School)
· 1.0 Custodian
· 2.0 Teacher Assistants
Middletown Public Schools Strategic Goals
Goal One Student Achievement
By 2022, 100% of Middletown Students will achieve their targeted growth expectations in the areas of math, science, and literacy using multiple measures.
Strategy 1.1 Empower students to grow as creators and become increasingly self-directed as they create digital collections of products of their learning that engage them in critical thinking, collaboration and authentic, real-world problem solving that addresses MPS critical competencies and content standards.
Strategy 1.2 Ensure the implementation of research-based instructional strategies with fidelity in order to achieve personalized learning goals.
Strategy 1.3 Ensure Professional Learning Communities drive student growth through a collaborative process of data informed decision-making.
Goal Two Student Supports
By 2022, all students will learn in a student centered, supportive, culturally sensitive environment that focuses on educational, social, and emotional needs measured in multiple ways.
Strategy 2.1 Provide researched based academic and behavioral supports and interventions for all students that align to MPS Critical Competencies.
Strategy 2.2 Provide a safe, supportive, nurturing and culturally sensitive school community.
Strategy 2.3 Design and Utilize a Data Management System
Strategy 2.4 Provide facilities, structures and resources that support 21st century learning
Goal Three Professional Growth
By 2022, Middletown Public Schools will ensure that all educators'/staff's professional growth is aligned to and supportive of student achievement as measured by performance evaluations and student achievement data.
Strategy 3.1 Recruit retain and train highly qualified teachers, administrators and support staff.
Strategy 3.2 Develop and implement a yearly district PD plan focusing on the five core critical competencies
Strategy 3.3 Align current Professional Development system with updated educator certification process in professional learning units.
Goal Four Communication and Partnerships
By 2022, Middletown Public Schools will maximize its communication efforts in order to foster partnerships with students, parents and the community.
Strategy 4.1 Develop and implement a comprehensive plan to engage parents and students in learning. Strategy 4.2 Increase involvement among our schools and community to create stronger partnerships. Strategy 4.3 Develop and increase work-based learning opportunities through industry partners.
Goal Five Future Ready
By 2022, Middletown Public Schools will expand its resources through innovation, efficiency, and academic return on investment so that all students are adequately and equitably funded to attain international benchmarked standards for college and career readiness.
Strategy 5.1 Develop and implement strategies for funding and educational programs.
Strategy 5.2 Establish innovative and creative environments grounded in best practice and research.
Strategy 5.3 Develop and commit to a comprehensive technology program that supports a one-to-one environment for all students.
Strategy 5.4 Develop and establish MPS benchmarks aligned to the international standards
EYE ON THE GOALS
The school-based budget process Includes:
1. Determining goals and primary needs
2. Review current reality (data)
3. Collect additional data (building goals and resources needed)
4. Align with Professional Growth
Teachers meet to determine needs. Directors and Content teachers work to align and compile resource requests. Building Principals review every building expense as it relates to student data and our district strategic plan.
Rhode Island department of Education Funding Formula
In 2010, State Legislatures passed the education funding formula devised by experts at Rhode Island Department of Education and Brown University. The formula is a transparent data-based metric aimed at distributing an adequate level of funding to support student learning. The primary goal of the formula is to ensure that the Rhode Island educational finance system supports achievement.
The funding allocations were phases in over ten years. District that were underfunded were fully funded; while District who were deemed to have been over-funded under the previous formula had saw their funds reduced on an annually basis over the past 10 years. FY2020-2021 is the first year that Middletown expects to receive an increase in its state funding under the formula.
SCHOOL COMMITTEE BUDGET REQUEST TO TOWN COUNCIL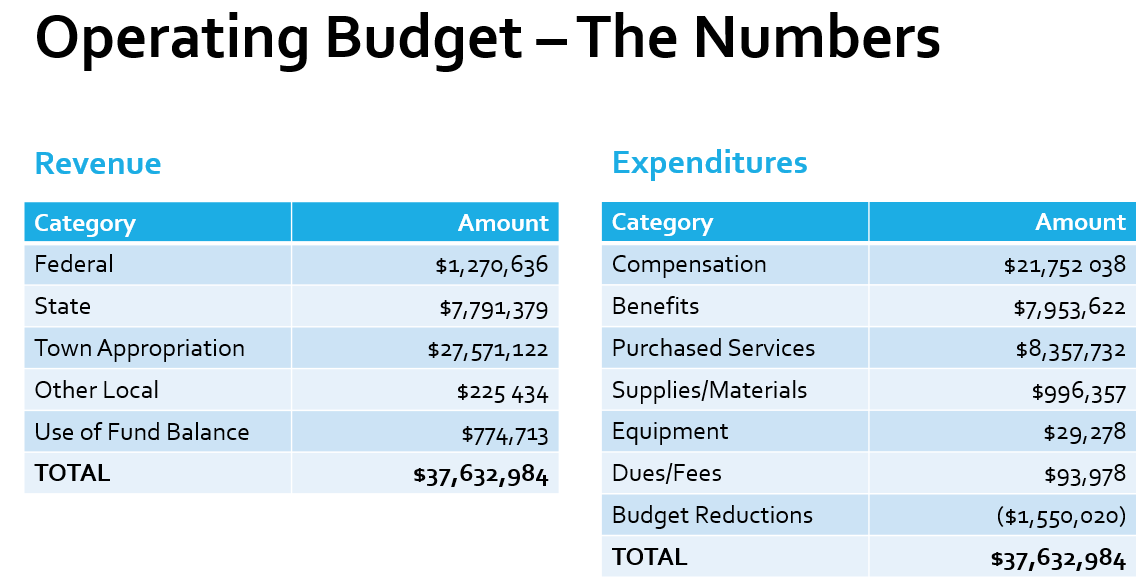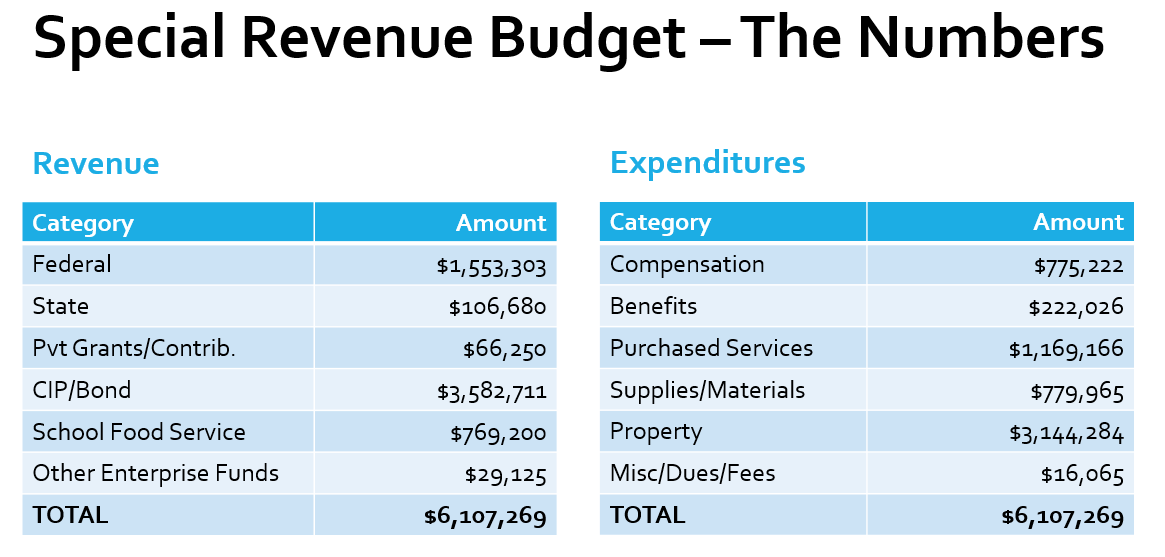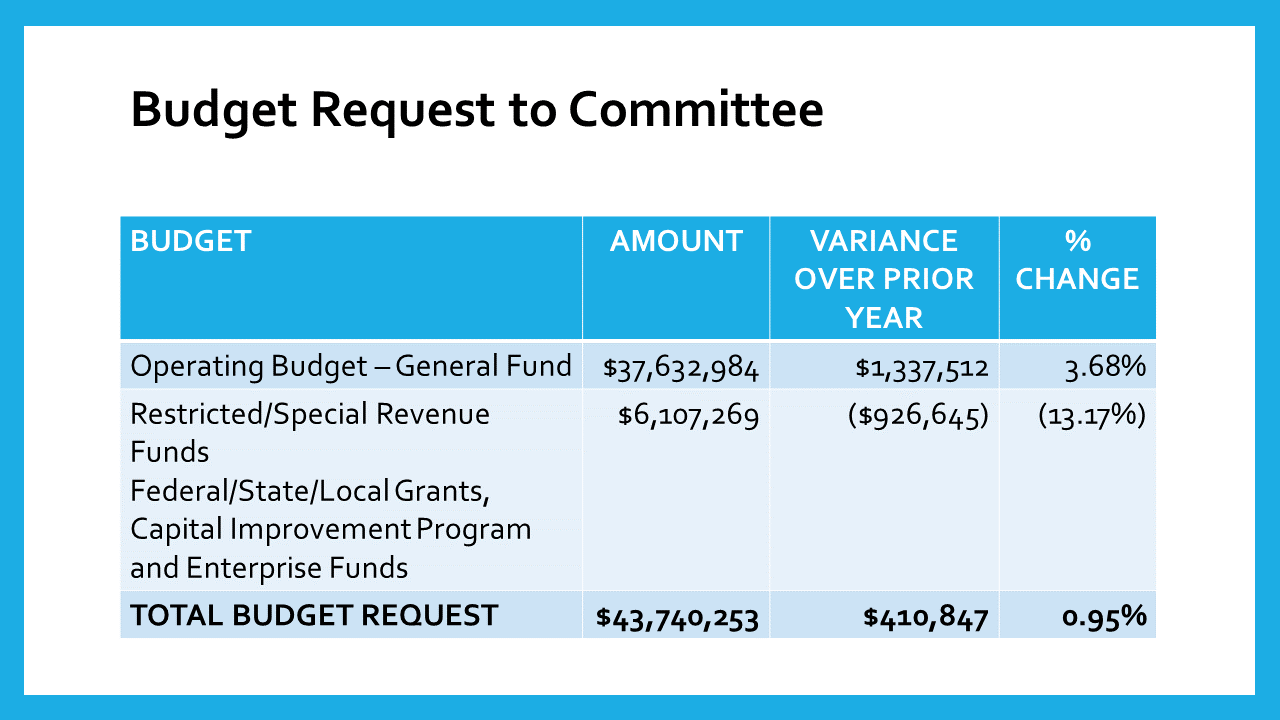 SCHOOL DISTRICT SECURES GRANTS TO SUPPORT STUDENTS' NEEDS
The School District continues to seek outside revenue sources through grant opportunities. One example of this is a Department of Defense Grant we received last year in the amount of $500,000 over a 5-year period. The grant supported the re-imagining of our libraries at the Elementary and Middle School levels. The District was able to hire a 1.0 Librarian to teach at our Middle School. Half of the cost of this librarian is funded through this grant, the other half in the general operating budget. This restored the library service model to a full-time librarian at every level in the district, including one librarian for each elementary school. In addition to these positions, it brought the library service model to a "future ready" one. Instruction is based on Science, Technology, Engineering, Art and Math (STEAM). The libraries have a "Maker Space" center where students can explore, and problem solve using STEAM activities and Project Lead The Way (PLTW) curriculum.
Another grant just recently awarded was a Literacy K-5 grant for $500,000, over 5 years to increase literacy support and provide high quality curriculum resources for the district.
The School district continues to be entrepreneurial to help offset the operating budget to continue to attract, maintain and recruit students and families to Middletown.
The district is applying for another Department of Defense grant for $500,000 to provide a Bio Medical pathway at Middletown High School. The pathway will be the third one to be accredited by the Rhode Island Department of Education, joining our Engineering and Computer Science Pathways. These Pathways enable the district to offer career opportunities for our students. It also allows the district to tuition in students from other communities who wish to pursue these career opportunities. Currently, we have 8 students from other districts in our career pathway programs.
Facilities Management
The mission of Facilities Management is to create and sustain a safe, efficient and effective environment to support the educational processes. Our goal is to develop and implement LEAN initiatives that create value for our stakeholders in support of the core mission.
The key functions of the Facilities Management Department include custodial/maintenance, project management and utilities management. We maintain 380,400 square feet of building space plus approximately 82 acres of grounds.
Our targeted goals for FY21 and a FY20 update include:
Operations
· Continued and enhanced collaboration with the town
· Develop service lines across specific town/school areas as a LEAN initiative
· Continue use of DPW excavation services to decrease project cost as was done with JHG backflow/meter project
· Continue to develop HVAC internal services to decrease contractor expenses
· Sustain the 30% reduction in expenses from the FY18 totals
· Continue to self-perform project management – to date cost avoidance of approximately $204,000
· Projecting a $110,000 reduction in overtime for FY20 due to restructuring. FY21 target to sustain that reduction.
· Restructuring resulted in a gain of approximately 2,400 productive hours. FY21 goal to target further opportunities as we respond to any further staffing reductions.
Projects -Bond
· Approximately $6.9M of projects have been completed to date
· Recent projects include a safe and accessible new entrance addition at JH Gaudet (great staff participation), Gaudet windows, flooring abatements with moisture mitigation, site work repairs
· Projects targeted for FY21 to complete the $10M bond are:
· HVAC improvements at MHS, Aquidneck and JH Gaudet; MHS roof section, MHS exterior doors, JH Gaudet exterior doors
· Complete a Stage I and stage II RIDE submission in FY21 to address the $28M of recommended infrastructure improvements and 21st century learning building renovations (scope TBD)
Project – Non bond
· $3.2M of project request have been submitted for FY21.
· Some of these projects are part of the RIDE 5-year plan approval for reimbursement
· Continue targeting energy initiatives. We have received approximately $200K of NGrid incentive approvals over the past 3 years
TECHNOLOGY DEPARTMENT
Mission: Middletown Public Schools Technology Department is committed in providing equitable student access to 21st-century learning tools and resources that will empower students to provide evidence of deep understanding of 21st-century knowledge and skills while engaging them with the real-world data, tools, and experts they will encounter in college, on the job, and in life.
Vision: To provide the necessary professional development, technological equipment, infrastructure and software in support of an academic learning environment where students can achieve at the highest level
Operations:
· Continue to maximize savings in collaboration with the towns Technology Director.
· Continue to streamline processes and services to maximize efficiency.
a. Upgrading Help Desk system to support all stakeholders.
b. Creating workflow via online forms replacing paper processes.
c. Upgrading our web presence and social media communication processes.
· Continue to move our data towards a cloud-based environment.
d. Doing so will produce software savings, better security, and accessibility.
· Continue to provide professional development and cross-training.
· Continue to support our Distance Learning Plan

Projects for FY21:
Initiate student and staff laptop replacement plan.
e. K-8 laptops are 8 to 10 years old
1. Initiate computer lab replacement plan.
f. Newer PC's are required for PLTW software
2. Network Infrastructure replacement plan
g. Supporting switches and Access Points

Budget history has shown consistent requests for network hardware, laptops and desktop devices in excess of $430,000 per year. The Technology Department is proposing static cost leasing options with first-year savings of $134,077, and a five-year savings of $539,019. By implementing a lease, we provide a static cost, and a device "standard" for our students and teachers. This option also allows for the completion of replacement hardware for our network, providing consistent models to handle the growing network and wireless traffic.
Given our "New Normal" of Distance Learning, the laptop replacement plan is even more critical due to the age and condition of our current devices. We have currently distributed laptops to 785 students, with over 200 that have returned with hardware issues. The refresh program would provide a regular refresh of devices with insurance coverage allowing for minimal downtime and impact of the student's time on learning.
3 . Ipad replacement
h. Operating system cannot be upgraded to accommodate current applications
4. Android Tablet Replacement
i. Hardware on the tablets prohibits upgrade of the current operating system
All items listed above are needed to support the below goals and strategies.

GOAL 4: By 2022, Middletown Public Schools will maximize its communication efforts in order to foster partnerships with students, parents and the community.
Strategy 4.1 Develop and implement a comprehensive plan to engage parents and students in learning.
Strategy 4.2 Increase involvement among our schools and community to create stronger partnerships.

GOAL 5: By 2022, Middletown Public Schools will expand its resources through innovation, efficiency, and academic return on investment so that all students are adequately and equitably funded to attain international benchmarked standards for college and career readiness.
Strategy 5.3 Develop and commit to a comprehensive technology program that supports a one-to-one environment for all students.


Office of Finance and Administration
Budget Information 2020-21