Middletown Public Schools has partnered with Ocean State TRANSIT to provide the safest, most cost effective, bus transportation. Please visit Ocean State TRANSIT's web site to learn more. https://oceanstatetransit.net/
We are working collaboratively to ensure that all safety guidelines from RI Dept. of Education and RI Dept. of Health are followed.
The following are the key components of our plan for the opening of school:
1) There are NO capacity restrictions on buses at this time;
2) Stable groups will be kept as much as possible;
3) Household members will sit together in the same seat when possible;
4) A 3 ft distance between riders will be kept when feasible;
5) Seating charts will be kept and updated daily;
6) Windows will be open to improve ventilations;
7) Daily logs identifying who is riding on the bus and where they have been seated will be maintained;
8) Riders will sanitize hands at entrance and exit of bus;
9) Face coverings will be required;
10) There will be cleaning protocols for all high touch areas after each run; and
11) Buses will be cleaned and disinfected between AM and PM runs after each run.
Transportation routes have been established based on school registrations. Please review the routes for your school to find your neighborhood stop. If you don't see one, please contact Ocean State at the number below for assistance.
Ocean State TRANSIT Contact Information:
Middletown Public Schools Transportation Services Contact Information:
Poe George
Director of Facilities
401-849-2122
pgeorge@mpsri.net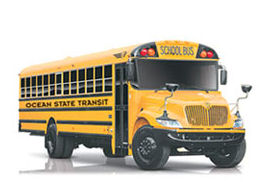 Middletown Transportation
SCHOOL START AND END TIMES
Middletown High School
7:30 a.m. - 1:40 p.m.
Gaudet Middle School and Gaudet Learning Academy
7:50 a.m. - 2:10 p.m.
Aquidneck and Forest Avenue Schools
8:50 a.m. - 3:00 p.m.
STUDENT ACCIDENT INSURANCE
Student Accident Insurance protection can be purchased through our carrier, Lefebvre Insurance for all students in the Middletown Public Schools. The link below will take you to the brochure and application for the 2021-2022 school year. School Time Accident Coverage, 24 Hour Accident Coverage, Interscholastic Tackle Football Accident Coverage and an Extended Dental Benefit are available and described in attached.