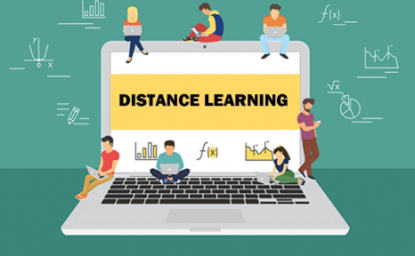 When will we be utilizing DISTANCE LEARNING?
We know that our teaching and learning plan must be fluid and flexible in order to adjust to the changing and unknown conditions of the pandemic. We are building our instruction so that it can easily pivot from one learning scenario to another and from in person to Distance Learning. We know both our staff and students needs will vary and we must be nimble in our ability to adapt for anyone who cannot be in school due to sickness, quarantine or any other safety reason

Distance Learning (DL) will be utilized when:
It is not safe to have in person school and RIDE tells us to go to full DL
All scenarios will have some students in DL
When a student needs to stay home for a medical reason
When a parent would like to opt his/her child from "in person" school for a trimester or semester or the entire year
Our Goals for Distance Learning
Ensuring that Learning Continues: While we know that learning will look different during this time, we remain fully committed to ensuring that students continue to learn new ideas and reinforcing what has already been taught.
Prioritizing Genuine Connections with Students and Families: In this new age of physical separation, it is our role as educators to build, maintain and strengthen connections with and among students and families -- creating a new, shared sense of community.

| | | | | | |
| --- | --- | --- | --- | --- | --- |
| | Stressed out teachers, students, or families | Children sitting in front of computers for hours at a time | Busy work pushed out through a computer | Overwhelming amounts of instructions posted or emailed with a lack of human connection and interaction | No schedule at all or schedules that are rigid. |
| | Balanced work loads for ALL that include keeping our MINDS learning and our mental health in a positive place. | Students and teachers utilizing a learning platform that allows for live (SYNCHRONOUS) and individually paced learning. (ASYNCHRONOUS) | Meaningful assignments with teachers providing feedback to keep students motivated and moving forward. | Live chats or video tutorials DAILY to maintain human connection | Schedules with check in times but also flexibility. |