Office of Registration
Oliphant Administration Building
26 Oliphant Lane, Middletown, RI 02842
401.849.2122 (p) 401.849.0202 (f)
enrollment@mpsri.net
Hours 7:30 AM - 4:00 PM
Latoya Andrew

Melissa Cabral
Spanish / Portuguese Translator:
Natalie Silva Patterson

401-849-2122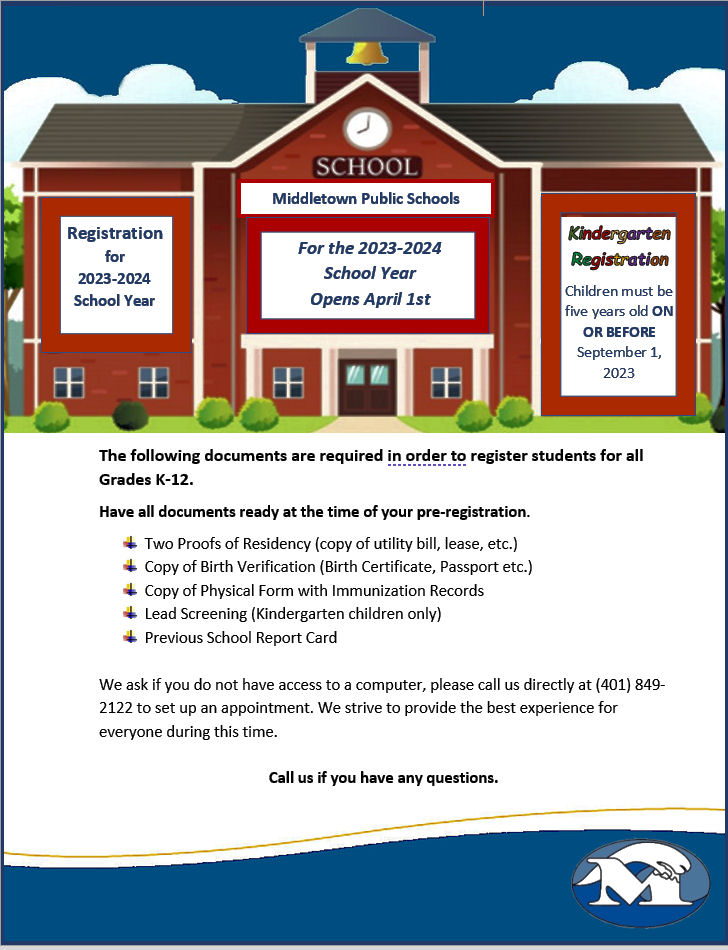 Registration Requirements
The following documents are required when registering your child within Middletown Public Schools. During the online registration process, there will be places for you to upload these required documents. Please see the list below to see what you will need to upload:
Address Verification: Two proofs of address must be provided when registering your child. Each must show the parents name as well as the home address. One form of address from EACH list below is required:
LIST A
Middletown Property Tax Bill

Copy of Mortgage Statement

Copy of Current & Fully

Executed Lease/Rental Agreement
LIST B
Current Utility Bill - within 30 days of registration date
(EXAMPLE: Home Telephone, Cable, Oil, Water, Electric, Gas bill)


*** Cell phone bill is NOT acceptable

Please note: If you live with another family member or person, you will need to provide a notarized verification of residency letter in addition to the proof of address required above.
Birth Verification: Official Copy of a Birth Certificate, Passport, or Military ID




School Physical Form with Immunizations: Completed Physical must be done and signed by your child's doctor within the year.

Any Additional Documentation (if applicable): Previous School Records/Report Cards/Transcripts, Individual Education Plans (IEP), 504 Plans, Response to Intervention Services or English Language Learner Services, Court Documentations (legal documentation providing custody or guardianship)

Kindergarten Registration: All children registering for Kindergarten for the upcoming school year must be 5 years of age on or before September 1.




Using Power School: Please use a computer or laptop, as PowerSchool is not compatible with most cell phones or tablets. It operates best using Google Chrome and it is recommended you clear your browsing history/cache before starting the enrollment process.